Distribution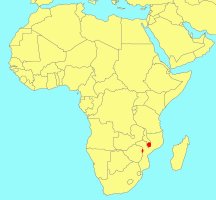 Malawi (Mt. Mulanje, Mchese Mt., Machemba Hill, Phalombe Hill); Mozambique (Mt. Namuli); Zimbabwe (Mt. Inyangani).
References
B
erg, C.C., 1990. Annotated check‑list of the Ficus species of the African floristic region, with special reference and a key to the taxa of southern Africa. Kirkia 13, 253
–
291.
Berg, C.C., 1991. Ficus. In:
Launert, E., Pope, G.V. (Eds.), Flora Zambesiaca. Volume 9. Ulmaceae, Cannabaceae, Moraceae, Cecropiaceae, Urticaceae, Casuarinaceae, Salicaceae, Ceratophyllaceae. Flora Zambesiaca Managing Committee, London, pp. 39-76.
Burrows, J., Burrows, S., 2003. Figs of southern & south-central Africa. Umdaus Press, Hatfield.
Dowsett-Lemaire, F., White, F., 1990. New and noteworthy plants from the evergreen forests of Malawi.
Bulletin du Jardin Botanique National de Belgique
60, 73
–
110.
van Noort S., Gardiner, A.J., Tolley K.A. 2007. New records of Ficus (Moraceae) species emphasize the conservation significance of inselbergs in Mozambique. South African Journal of Botany 73: 642-649.