Distribution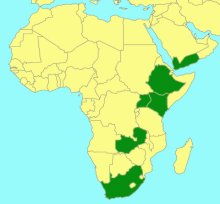 Ethiopia, Kenya, South Africa, Uganda, Yemen, Zambia.
References
Cornille, A., Underhill, J.G., Cruaud, A, Hossaert-McKey, M., Johnson, S. D., Tolley, K.A., Kjellberg, F., van Noort, S., Proffit, M. 2012. Floral volatiles, pollinator sharing and diversification in the fig-wasp mutualism: insights from Ficus natalensis and its two wasp pollinators (South Africa). Proceedings of the Royal Society B 279: 1731-1739 doi: 10.1098/rspb.2011.1972
Mayr, G. 1885. Feigeninsecten. Verhandlungen der Zoologisch-Botanischen Gesellschaft in Wien 35, 147-250.